Associate Professor of French
Associate Dean for Equity, Justice and Inclusion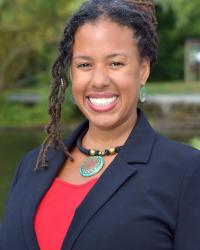 Contact Information
Office Hours
Tuesdays 2-4pm in CMU 63 or on Zoom (schedule by visiting https://calendly.com/mayaas)
Biography
PhD, Romance Languages and Linguistics, University of California, Berkeley, 2013
MA/BA New York University, Institute of French Studies, 2004-2005
Maya Smith completed her undergraduate and master's degree at New York University in the joint MA/BA program with the Institute of French Studies. She received her PhD from the University of California, Berkeley in Romance Languages and Linguistics. Her scholarship broadly focuses on the intersection of racial and linguistic identity formations among marginalized groups in the African diaspora, particularly in the postcolonial francophone world. Her book, Senegal Abroad: Linguistic Borders, Racial Formations, and Diasporic Imaginaries, was published with the University of Wisconsin Press in January 2019. Through a critical examination of language and multilingual practices in qualitative, ethnographic data, Senegal Abroad shows how language is key in understanding the formation of national, transnational, postcolonial, racial, and migrant identities among Senegalese in Paris, Rome, and New York. This is a book about language attitudes, how they influence people's local and global interactions with the world, how they change through the experience of migration, and how in turn they affect migrants' language use. Senegal Abroad received the Aldo and Jeanne Scaglione Prize for French and Francophone Studies at the MLA 2021. In addition to the Senegalese Diaspora, Maya is interested in how blackness is constructed in the French Caribbean and in inclusive language pedagogies.
Maya also believes deeply in the importance of public scholarship and has written about or presented on a range of subjects. She has published the following Op-Eds:
2021. "Enunciating Power: Amanda Gorman and My Battle to Claim My Voice." Yes! Magazine.
2021. "A People's Song Upon the Waters: A Familial Examination of the Sea Chantey Lays out Its African American Roots." Zócalo Public Square.
2020. "As a Black Mother-to-be, I'm already Full of Heartache." Boston Globe. 
2018. "How Black Panther is Rewriting Hollywood's Narrative of Blackness." Nerdist. 
She has also been interviewed for podcasts and radio shows:
2023. Shiver Me Timbers: A Show about Sea Chanteys
Maya has been the recipient of various grants including the Camargo Foundation's Author-in-Residence Fellowship, the Woodrow Wilson Career Enhancement Fellowship for Junior Faculty, the UW Research Royalty Fund Fellowship, the Simpson Center Society of Scholars.