Associate Professor of Italian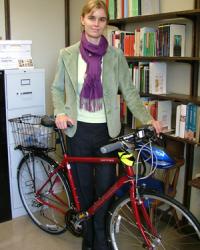 Summary
Ph.D., University of California, Berkeley, 2004
Susan Gaylard completed her undergraduate work in her native South Africa, before studying at Berkeley and the Scuola Normale Superiore in Pisa. Prof. Gaylard focuses on the early modern period, in particular the intersection between literature and material culture. Her book, Hollow Men: Writing, Objects, and Public Identity in Renaissance Italy (Fordham University Press, 2013) explores the linking of literary identity to objects (like books, coins, clothes, portraits, monuments, emblems), and the gendering of the literary canon. Her current project explores the gendering of popular historiography through visual-verbal interactions in 16th-century illustrated books.
Other teaching and research interests include fashion, gender and portraiture, nationalism as expressed in material culture, theater, early modern "how-to" books, literary historiography, and Italian representations of Africa.
Prof. Gaylard has presented papers in Italy, Britain, and the US, on topics ranging from Boccaccio to 19th-century literary historiography. She has published on Boccaccio's Decameron, Aretino's literary use of clothing, Castiglione's reworking of Cicero, "deviant" women in 16th-century portrait-books, and the "monumental pose" in Ghirlandaio's Sala dei Gigli frescoes and Pontano's Principe.
Professional Affiliations: