Submitted by
Fis Assistant
on April 22, 2016 - 4:05pm
About 90 guests from the UW community gathered in Gould Hall on the evening of April 21st to celebrate Rome's 2,769th birthday with poetry readings and refreshments. Faculty members of the English Writing Program in Rome presented both original and famous poems, interspersed by presentations by Italian students and FIS professor Albert Sbragia. The event was hosted by Sabrina Tatta, FIS adviser, and Johnny Horton, co-director of the summer creative writing program in Rome. Guests mingled before and after the event enjoying antipasti and aperativi, and one lucky guest won a framed photograph of Perugia to take home, donated by Christopher Ozubko, director of the Design Program in Rome.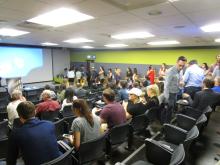 Guests mingle before the event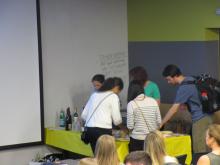 Guests around the refreshment table, enjoying wines, crackers, salumi and cheeses.
 Albert Sbragia and Johnny Horton set up before the event.
 Albert Sbragia speaks about the importance of his poet, Belli, to the people of Rome.