Submitted by
Fis Assistant
on June 16, 2017 - 12:54pm
French and Italian Studies graduates and their families gathered with staff and faculty in the Simpson Center on June 9th to celebrate the culmination of their time at the UW. About 70 people mingled, chatted and enjoyed refreshments (pastries donated by Macrina Bakery!) for an hour before Chair Rich Watts took a few minutes to speak about the graduates and call each one by name. He commended the students' hard work and wished everyone the best in their post-graduation endeavors.
Congratulations to all the graduates:
BA in Italian Studies: Alissa Erin Anderson, Diana Jessica Blanco, Yoojeong Cho, Eva-Maria Hartmann, August Greco Lefevre, Thuy N Nguyen, Marisa Penelope Russell, Emma Jo Smith, Angela Darcee Piacentini.
BA in French Studies: Audrey Meghan Airut Murphy, Monica Shannon Airut Murphy, Adna Ali, Robyn Lynn Cochrane, Adriana S Elliott, Martin Macdonald Horst, Erika A Kibitskaya, Yasmin Sara Luqman, Kendall Raymond Mathew, Mika Yasuda McIvor, Emily Taylor Moseley, Cheryl A Ruiz, Madison Mckenzie Spencer, Hannah Rose Strelau, Laura Michelle Taylor, Lindsey Jade Townsend, Jenny Thuy An Vuong.
Ph.D. in French Studies: Florentina Dedu-Constantin.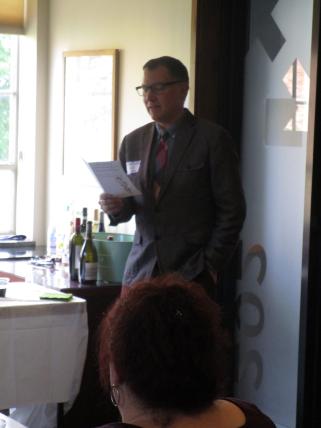 FIS Chair Rich Watts speaks about the graduates.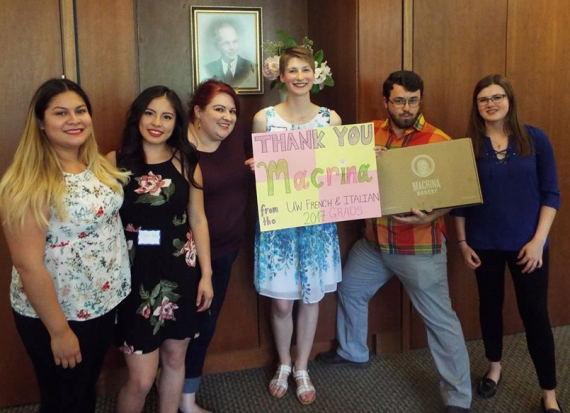 Students and guests pose with a poster thanking Macrina Bakery for their donation of refreshments to the event! (Photo Credit: Diana Blanco).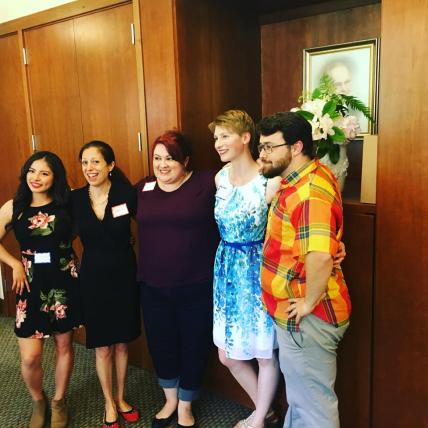 Graduates Diana Blanco, Angela Piacentini, Eva Hartmann and Kendall Mathew pose with FIS advisor Sabrina Tatta (second from left). Photo credit: Angela Piacentini.