Submitted by
Fis Assistant
on May 5, 2017 - 2:10pm
Alumni Profiles
These French and Italian Studies Alumni have shared the paths they followed after graduation, how their languages have fit into their careers, and why they think the knowledge of foreign languages is beneficial.
Lauren Moses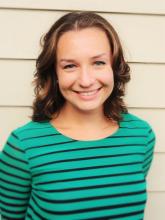 2016, JSIS and French. Teaching Assistant in France: TAPIF
"I heard about TAPIF through UW's French department, in an email. I knew that I wanted to take a gap year before going to graduate school, and had been enjoying my time as a volunteer at a bilingual elementary school in Northgate, so I applied. I was placed in Charleville-Mezieres, which is a medium-sized town in northeastern France, in the Ardennes. I'm about one hour from Reims, two from Paris, and just minutes away from Belgium. While some people may have been disappointed to not be placed in a big city, I enjoy the small-town feel. Nobody speaks English here, which forces me to use French in all my interactions. I work in two high schools, with the French equivalent of juniors and seniors. I was fortunate enough to receive housing from one of my schools, so I live in their internat, which is very centrally-located. Another assistant, from Australia, is my roommate. One of the highlights of this experience has been meeting the other Anglophone assistants from all over the world. I only work 12 hours a week, which leaves plenty of time for lesson planning, reading, and exploring. I've enjoyed seeing my students' progress, having lots of free time to focus on French, and following the French presidential elections!
"[After graduation], I had the option of joining the Peace Corps, but I chose to continue my studies. I am interested in Master programs in Europe, and ultimately PhD programs in the United States. I am determined to remain proactive in the States in order to maintain my current language level. For me, this entails reading in French every day and keeping in touch with my French friends. In the future, I want to use my French skills when I conduct research.
"Rather than the tangible advantage of being able to communicate to a wider range of people, language majors have many unique skills that prove beneficial in the job market. I believe that language learners are more open-minded when approaching problems, as we have been trained to think about issues in multiple ways. Being able to work in another linguistic and cultural context also shows flexibility, which is very important in today's fast-paced job environment. Additionally, language learners usually take initiative and are oftentimes self-taught. In an academic context, knowing French increases your access to research resources – you now have access to a plethora of materials not available in English. This has been a main motivation of mine."
Jasmine Wang
 2009, Italian and International Studies (Human Rights concentration). UW Department of Communications.
"At the moment I work at UW in the Department of Communication where my job is heavy on the operations side of things. Nothing in particular led me to this line of work but I spent 6 years abroad as a teacher in Istanbul, Turkey and when I came back, I ended up finding a job at UW. I started in the Department of Statistics and after a year moved to my current position with Communication. I like that my position is varied and pretty busy and I do a lot of different things. What I enjoy the most though is my daily interaction with the faculty and staff, especially with foreign faculty and staff. There aren't as many in Communication as there were in Statistics but I love to hear where people came from and how they feel about living in Seattle as expats. My mind is always on travel so these are my favorite connections with people.
"I initially thought about pursuing some kind of grad degree in Italian because I love Italian that much. (I still do. Nothing makes me happier). However, I was kind of burnt out after graduating though and ended up moving to Istanbul, Turkey to teach English. I intended to stay for a year and come back for grad school but one year became two and two became three and next thing you know, I spent 6 years there. I came back in Aug 2015 after Turkey started to hit their rough patch as the lira was constantly losing value against the dollar. Teaching English abroad was incredible and being able to do so in Turkey meant I had the opportunity to travel around Europe a lot, including trips into Italy whenever I found a cheap ticket. I no longer think about grad school for Italian though because the truth is, I loved Italian so much that it masked the fact that I'm not actually terribly strong at the humanities side of things such as art and literature analysis. That being said, every so often I do consider if I want to pursue linguistics in the long run.
"I think something that is very unique to language majors, especially ones that have spent a significant amount of time abroad, is their perspective. This is maybe not even something I would have considered unique just after finishing my undergrad but it's something I realize now is unique after living in Turkey and then coming back here. Intercultural awareness and empathy is something that is incredibly important to have, especially in this day and age. To be able to understand another culture and understand what it's like to uproot your whole life and move somewhere foreign and new and to adjust and build a life while operating in a language that isn't your mother tongue that you might not even be fluent in – it's invaluable in my opinion and much needed."
Bethany Lidgard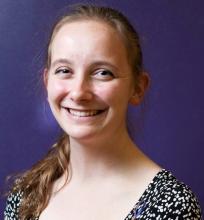 Spring 2015, French. UW Masters in Teaching, French Track. French Teacher: Garfield High School.
"I am a French teacher at Garfield High School. In that, I teach five periods a day, teaching all of the levels the school offers. This year that's French 2, 3, and AP. Next year I will teach 1, 2, 3, and AP. I also moderate Francophone Club. What led me to teaching: I always felt that it would be a good fit for me and then when I decided to major in French, as it was one of my favorite subjects, it seemed like a logical career path. I then continued to get my Masters in Teaching which really confirmed my love for the profession. I love when I teach something that the students find really interesting or engaging: that kind of absolute buy-in about something that you are passionate about really makes all of the hard work more worth it.
"After I finished my undergrad (I double majored in French and Romance Linguistics and finished a quarter early), I took a week off for Spring break and then started a one year Master's program through the UW College of Education. The program was four total quarters including summer and then I added an additional quarter to earn an extra endorsement in English Language Learning. After that, I started the job search application and interview process. I interviewed with about four different districts and had various offers, before I finally got the offer I wanted in Seattle in June.
"There are many skills that are unique to language majors that help us in the job market! In my pathway it's pretty obvious: you can't teach a language if you don't know it! I feel that my experiences studying language also make me more familiar with the struggles of learning that my students experience every day, making me more effective in the classroom. Outside of just my field, learning a language makes you more accepting of others as they learn languages and of other cultures, which helps you to relate to other people or imagine other perspectives. This can help in general interactions with coworkers, in managerial positions, or just in general customer service positions. Knowing another language itself is often a plus for many employers, and it opens the door for international jobs as well."
Kenneth Barger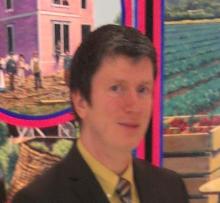 Spring 2014, French. Freelance Interpreter/Translator.
"I am a freelance interpreter and translator for Spanish and French. Most of my interpreting work is in the courts in Washington State and occasionally elsewhere. I work with people who have to go to court in all kinds of situations, from traffic tickets to felonies to divorces, and who don't speak English well enough to participate meaningfully without an interpreter. As a freelancer, I also work in many other situations, such as business, non-profit work, and much more.
"My translation work is similarly varied. I produce written translations for non-profit organizations, attorneys, schools, etc. This broad variety of topics keeps my work interesting and offers a constant learning opportunity.
"I did things a little out of order. I was already a Spanish interpreter for many years before I registered at UW to study French. So I had already navigated the path to entering the profession, and studying French at UW was a way to sharpen my French enough to repeat the process for my third language, pass the requisite tests, and "go pro" in French.
"At the risk of stating the obvious, bilingualism is a huge asset in any field. I'm an interpreter, so my whole profession revolves around speaking multiple languages, but every sector of the economy needs bilingual people.
"There are subtler, soft skills that come with becoming bilingual that have to do with dealing with people from different backgrounds. Successfully communicating with people from different countries and who speak different languages requires a certain flexibility or nimbleness that has broad application to any field that requires dealing with people regularly.
"You have to pursue your passion. If you are going to achieve professional and financial success, it will almost certainly come only after you discover a field you are passionate about and for which you have an aptitude. In my field, no one really makes very much money, but I have done well for myself simply because I love what I do so much that I work very, very hard at it. I can't imagine doing this work in an offhand or perfunctory manner. It requires one's full attention. If you can find a field that you care enough about that you're willing to strive for excellence every day, you will achieve excellence, and therefore, success.
"However! Do not commit the error of working too hard and sacrificing your health and happiness for your career. In a new field, you must pay your dues, but there is a balance to be struck. The unquantifiable and intangible things in life, like fun, joy, love, health, and relaxation, are of paramount importance and must not be sacrificed. To achieve success in a career is only one of many elements of a successful life."
Kelly R. Ruhlig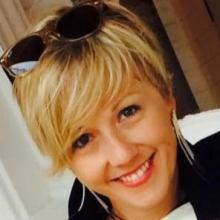 2012, French. Manager: Graduate Program in Taxation at UW Law
"I manage the Graduate Program in Taxation at UW Law. I work with the 65-85 students who are in the Masters of Taxation Law program. I assist students with applying, course selection, maneuvering the university, graduation, etc. I coordinate events, including one two-day conference at the Washington State Convention Center with over 900 attendees. I also market the program as well as the other 8 graduate programs at UW Law.
"I started at UW Law as an administrative assistant for the tuition exemption benefit. I stayed because I feel in love with the university and academia.I would recommend working in higher education; it keeps one learning.
"After graduation I worked at the College of Education to see if a Masters in Teaching was something that I wanted to explore. I discovered that I really liked advising students. After less than a year, UW Law offered me a position in the Graduate Tax Program working with students.  
"I believe that students who are language majors are more empathetic to foreign-language learners and are generally more culturally competent. They are also able to adapt easily to changes."
Kristi Bauer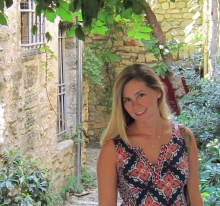 2004, Italian.
"I currently work in admissions for a private higher education institution in Florence, Italy - Florence University of the Arts. Most of our students are foreigners who come from all over the world to have a study abroad experience. I find working in international education really gratifying because I get to work with students coming to a new country for their first time and it is so inspiring to see how the grow during their time away from home and how their mindset changes. It reminds me of my study abroad experiences through UW in Rome and in Perugia and how much they enriched and changed my life.
"After graduation I worked in the Seattle area for a year in an Italian restaurant and as a barista until I finally got up the courage to make the move to my beloved Italy. I knew in my heart that was where I wanted to be so I bought a ticket and got on a flight to Rome by myself without no plans whatsoever. I figured that I would stay a few weeks, or a couple months, and get it out of my system, but that was in 2005 and I am still here. I ended up in Florence where I worked in a restaurant again and finally decided to do a Masters program in Human Resource Development at the Università degli Studi di Firenze, all in Italian. From there I started a job in a local vocational training and adult education center where I focused on projects with other schools from all over the EU. I really enjoyed this line of work because I had the chance to travel to many places around Europe and got to know people from different countries and cultures. It was also an incredible learning and growing experience for me.  
"I really loved my studies at the UW Italian department. I had so many wonderful teachers that really shaped me and made me excited about learning. I took my first Italian class at UW to just fulfill a requirement my sophomore year and thanks to these fabulous teachers a few months later I was on my way to Rome with the Italian Studies program. I don't really know what exactly led me here but I do know that living in Italy is not what I had expected or planned in my life but I'm so happy that I took the chance to try something different."
Molly Kisner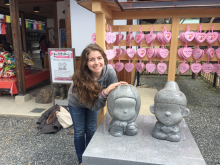 2015, French and Japanese. Assistant Language Teacher: JET Program
"I am currently working as an Assistant Language Teacher (ALT) on the Japan Exchange and Teaching (JET) Program in Fukushima. I help teach the English classes at the local junior high and elementary schools in my town. I love being involved with the schools and living in Japan. Being in Japan has made me realize I want to continue to work with international education after I return to the US.
 "I first heard about the JET Program in my Japanese 101 class. I didn't want to teach and thought I would never end up a JET participant. Coming to the end of my undergraduate studies as a double-major in French and Japanese I studied abroad in Japan and joined a club that did volunteer work with an elementary school. As I experienced life as a Japanese college student and began to learn more about the lives of children in Japan I decided I wanted to live in Japan again to gain a deeper understanding of the culture and language. I also (grudgingly) discovered I really enjoyed tutoring and knew JET was a way I could combine the two. After doing more research into the JET Program I discovered JET ALTs in middle and high schools are often more assistants than the main teacher of a class; which confirmed my desire to apply. (ALTs who work with elementary schools are usually more responsible for their lesson plans.)
 "After graduation from UW I moved in with my sister and worked as the receptionist for a Japanese company in DC. (Japan International Transport Institute, USA) At that time I had already sent in my application to the JET Program and was waiting to find out if I would be accepted. Working with my Japanese colleagues helped me get an idea of what being employed in Japan might be like and got me really excited to return.
 "I think learning a new language opens up your mind to consider new possibilities and changes the way you problem-solve. These skills are definitely useful in any field field.
 "As a junior I hit a really hard wall because my life wasn't working out according to the plan I'd imagined as a freshman. The road to proficiency in Japanese is significantly longer than the journey I took to gain proficiency in French; I didn't realize that would be a challenge I'd have to overcome. I think it's important to remember that you shouldn't be afraid to go along with the changes and new opportunities presented to you. When I had to re-evaluate my plan I discovered I actually didn't want to become a translator – which had been my proclaimed goal for years – and I'm so happy with where my life is now! Have confidence in yourself and blaze your own trail."
 Molly has been accepted into the Middlebury Institute of International Studies, where she will study International Education Management. She hopes to become a study abroad advisor after graduation.