Submitted by
Fis Assistant
on March 3, 2017 - 4:02pm
On February 23rd, French & Italian Studies partnered with the Slavic Department to host a Career Panel for language majors. Eight panelists participated in the event, representing an array of different backgrounds and careers. In addition to describing their personal experiences as multilingual people in the workforce, the panelists shared what they think are the most important ideas to keep in mind while job searching as a language major. These include volunteering, job shadowing, maintaining and developing your communication skills, and being flexible, both about where you work and in which sector (they emphasize that mostly likely, you will not find your lifelong career right away!). All panelists agreed that although the job search may be daunting, the benefits of speaking more than one language are countless and can give graduates an edge in the workforce. A principle takeaway point from the event was to always keep your options open; do not be afraid to explore careers that you might not have considered in the past.
If you missed this Career Panel but want to hear from language majors in the workforce, come to our next Panel, scheduled for Thursday, May 18th, 5:30-7:30! (Location and panelists to be announced - check back in!)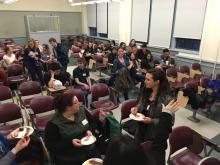 Students mingle and enjoy refreshments before panel begins. About thirty people attended.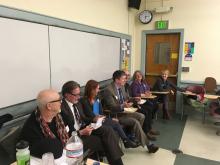 Panelists answer questions and share anecdotes
Panelists who attended:
Matt Christie, French Major (&MA)
Marketing and Communications Manager Alliance Française de Seattle
Kenneth Barger, French Major
Translator and Interpreter (Spanish and French)
Freelance translator for the courts, from US District Court to King County Superior Court to the Oregon courts system. Also handles written translations for clients all over the world.
Kelly Ruhlig, French Major 
Program Manager, UW School of Law | Graduate Program in Taxation
Rumeysa Nurdogan, French Teacher
Middle school teacher of French Grades 6-8; Levels French 1A/French 1B/French 2.  Girls Varsity Soccer coach
Jane Addams Middle School
Seattle Public Schools
Phillip (Felipe) Markley, PhD in Education with concentration in Applied Linguistics, Spanish and Bilingual Ed
World Language Methodology Instructor for the UW Secondary Master in Teaching
Sheila Charles, MA Slavic Languages and Literatures
Project Manager, Fred Hutchinson Cancer Research Center
Veronica Muskheli Graduate Student in Slavic
Washington State certified Medical Interpreter in Russian, working part-time through Dynamic Language agency that serves Group Health Cooperative and University of Washington Medical clinics as well as small private medical offices and labs
Tim Riley MA, PhD, Slavic Languages and Literatures
Federal Bureau of Investigation  Intelligence Analyst