Submitted by
Fis Assistant
on January 31, 2017 - 2:21pm
On January 25th, Professor Susan Gaylard and students of Italian 431 (Italian Theater) and 305 (Texts and Traditions) attended Seattle Opera's production of Verdi's La Traviata. In addition to enjoying the performance, the students paid attention to the unique staging of the opera and discussed it in class the next day. "This was my first time at the opera and it was a really illuminating experience," said Eva Hartmann, an Italian major in Gaylard's theater course. "Seeing a performance in person gives us a better idea of how these pieces should be read, and helps us appreciate all the work that goes into bringing a script to life."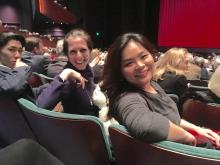 Waiting for the curtain to rise. From left: student Wataru Kikuchi, FIS advisor Sabrina Tatta, student Yoojeong Cho
 Italian students Yoojeong Cho, Kendall Mathew, Eva Hartmann and Angela Tini with Professor Susan Gaylard.