Submitted by
Fis Assistant
on January 13, 2017 - 3:38pm
Every quarter, we will be publishing "Notes from Abroad:" updates about life from our students studying or working in France and Italy.
Emma Smith has been working as the UW Rome Center intern since June 2016. During her first Winter Break abroad, she had the opportunity to travel and stay with friends Sicily and Puglia, experiencing the holidays with Italian families. Read her Notes from Abroad:
"Although I was far from home this winter break, I never felt lonely, as I was surrounded by numerous Italian friends who made me feel like a part of their (
humongous
) families. I first went to Palermo, Sicily, where I stayed with the the previous UWRC Italian Intern and her family. I am a seafood lover, so this was a dream come true. On Christmas Eve we ate from
8 pm - 1 am
, and had probably a 6 or 7 course meal with fresh anchovies, shrimps, seafood salad, seafood pasta, tuna- the list goes on! We then ate from
1 pm- 8 pm
the next day for Christmas. I tried lots of typical fried Sicilian foods like Croche' (Fried potatoes), and panelle (fried chickpeas), and I even tried (just one bite!) of a liver and lungs burger (not a fan!). We visited Teatro Massimo which is the largest theatre in Italy, many mosaic churches, and enjoyed the decorated and lit streets. It was around 20 degrees Celsius, so we even managed to go to the beach twice, but definitely refrained from taking a dip in the water!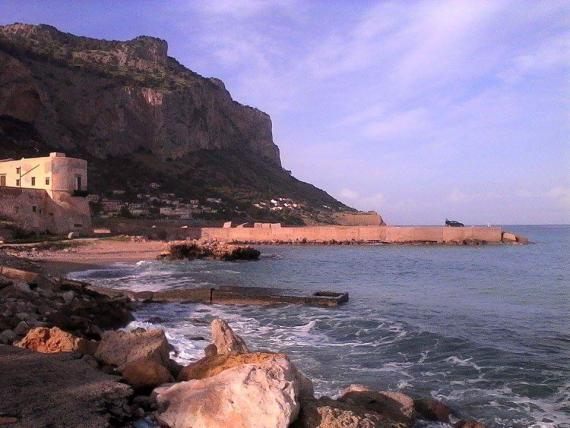 "I then went to Gravina in Puglia, a small town of 43,000 people in the region of Puglia in Southern Italy where my boyfriend's family lives. Again, food was a definite highlight of my trip! I ate lunch with the entire family (aunts, uncles, grandparents, cousins, etc) every day for 3 or 4 hours. I tried many typical dishes from Puglia such as Orecchiette (homemade pasta shaped like little ears), homemade panzerotti (basically a calzone), lots of seafood, and homemade wines and limoncello. I also learned quite a few card games traditional of Puglia, such as "Bestia" (which means beast- because people really do turn ugly and angry while playing this game!), 7 and a half, and even Dominos. Italians pull out a green table cloth to cover the table and bet money on cards for hours while eating sweets and drinking wine. I also got to experience the amazing underground streets of Gravina! There are ancient wine cellars, homes, streets and even bathrooms built underneath the entire city for miles, and hundreds of caves called "Le Grotte" all around the city. We went to Matera, a city about 30 minutes away for New Years Eve, with houses built into the cliffs and caves, and recently declared a UNESCO heritage site. Overall, this entire vacation was one of the best I have ever had, and an unforgettable memory."
Stay tuned for more Notes from Abroad!